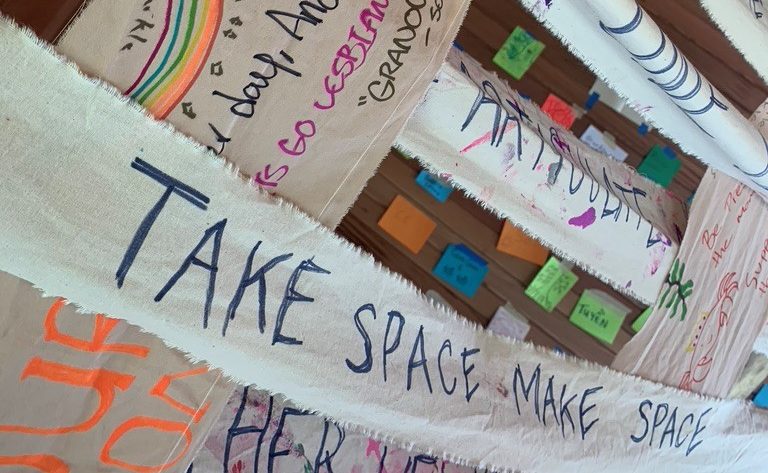 All volunteers contribute to our strengths-based programming! We invite volunteer applicants to submit workshop and activity proposals by March 15 so we can begin to plan the camp program. We encourage imaginative, critical and innovative workshop proposals that support and explore intersecting themes youth may face in their home communities. Workshops typically fall into one of four program streams: Leadership & Allyship, Campy Arts, Wellness, and Outdoorsy/Land-based programming.
We invite workshops that promote learning in non-traditional and fun ways.  In other words….if your workshop idea could easily be done in a school or urban environment, please re-imagine a way of engaging with your content that could only be done in a space like CampOUT! In the past, successful workshops draw on creative facilitation, body movement, arts, collaboration, sound, use of space, and a combination of reflection and action.
Programming Goals: We want to encourage youth to build on and share the strengths, relevant knowledge, and skills they bring to CampOUT! Our programs support participants to work together, engage in understanding one another across differences, challenge social norms, celebrate our many communities, and motivate social change. Campers are seeking learning and engagement opportunities that are different from what they can access at school. We invite you to propose workshops and activities that cater to many different styles of participation and will spark learning and engagement that can be continued beyond camp. 
CONTACT CAMPOUT.DIRECTOR@UBC.CA ABOUT CAMP SESSION PROPOSALS
2023 CampOUT! Theme: TBD
Proposal: In your proposals, we encourage you to tap in to your pre-existing skills, leadership strengths, and passions. You could also try something you don't often get to do! We encourage you to bring your unique perspectives and ideas – stretch if you see new opportunities to contribute, and feel free to reinvent existing workshops/activities in your own way!
It may be useful to look over last year's program guide here: 2019 Program Guide to help you get a sense of our program goals and vision, and think how your ideas might align with our core programming areas.
*Workshops will be 60-80 minute sessions that fall into one of the key program categories: Arts, Health and Sexuality, Community Building, Fun Campy and Leadership Skills.
*Activities will be 30-90 minutes sessions that embody the spirit of traditional camping (and perhaps have a fun 'campy' twist). These may take the form of arts and crafts activities, recreational games, nature walks, morning yoga, campfire singalong, stargazing, kayaking, canoeing, hiking, or even a guided meditation!
Please create a clear proposal for our program selection committee using the template points below of download and fill out the 2023 CampOUT Proposal Form:
Propose a creative or temporary working title for your Community Mentor role: _____________________________

Are you affiliated with an organization? Y/N (if you are not, skip to step 3!)
Organization address, phone and email
Do you work for an organization that plans to pay you or give you time off for CampOUT!? 
For each workshop/activity you are proposing, please provide the following:
Title of your proposed workshop/activity
How the workshop/activity relates to the theme: 
Summary of intended workshop/activity (approx. 250 words) (Note: if you are submitting a co-facilitated proposal, please know that both facilitators may not be automatically accepted to camp. Please specify if you need to have both facilitators for your workshop/activity, if you can solo-facilitate, or if you are open to working with another partner.)
Workshop Outline (beginning, middle, end? how will you open and close? how long does each activity including explaining it take?)
Stream of Programming (Leadership & Allyship, Campy Arts, Wellness, and Outdoorsy/Land based programming)
Preferred date – ie: day 1, 2, 3, or 4 of camp programming (you will be required to be at camp for the entire duration, from July 1-6. Campers arrive on the 2ne

 which will be day 1 of camp programming. Most workshops for campers take place on day 2 & 3- July 3

rd

& 4

th

).

Supplies Needed: Audiovisual or other equipment and materials needed, and set-up assistance or equipment/materials required from us. Please be specific so that we are able to have the supplies ready for you before camp. We will be in touch with you to see if you need assistance transporting equipment/supplies to camp.
10.Length of session and preferred time of day: Morning or afternoon? Workshops should have an expected run-time between 30 and 90 minutes. We cannot guarantee that we can provide of the full time desired for each workshop.
11.Workshop/Activity 'blurb' for program guide: Please craft a short and enticing camper-centric promotional description for this workshop/activity! See 2019 Program Guide.
Deadline for the proposals is March 1, 2023.  Proposals may be submitted electronically via the document upload in the Leadership application. We look forward to hearing from you!
If you have any questions at all, please contact us at 604.822.8298 or campout.director@ubc.ca